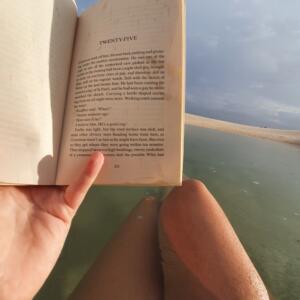 Waking up I was excited.
I was heading into Parque Nacional dos Leçóis Maranhenses in the North of Brasil.
With my bikini on, towel in my bag, and a book… of course, a bottle of water and some dried fruit snacks I was ready to go.
The jeep picked me up and off we went through the town to collect other adventurers and then we crossed the river into the desert.
Over sand tracks, ducking to miss low hanging branches, seeing random dwellings here and there, the reminder that people lived out here in the desert.
Families lived here. A community lived here, because there was a school, as basic as it was.
A mini market… mini being the operative word.
Everyone smiling their toothless grins and small children running alongside the jeep.
I was reminded of how blessed I was to be here, to be reminded of the simplicity of life.
A life without the need of endless possessions, everything fitting into 27kgs, at most 33kg, and being free to travel at any given moment…
Not knowing where to next.
As the day unfolded and I arrived in the desert the clouds were rolling in, black and full of thunderous rain.
I'm a storm lover, and I had my music so dancing in the rain was now a possibility.
I didn't have long to wait as the heavens opened and the rain fell to the hot sandy earth sizzling on the sand.
10 minutes later the sun was back out and another 10 minutes later the earth was dry again..
Except the lagos which had just been filled by the rain for those of us arriving in the desert for a swim – and exploring this vast expanse of creamy white sand, a hidden gem in amongst the lushness of the Brasilian North.
As I walked from one lago to another, swimming in each one, I reached one which was perfect for a moment of reading.
Grabbing my book out of my bag, leaving my bag on the side of the lago, I settled in to read.
After a chapter I looked up and thought 'How beautiful is this! How blessed am I!? Thank you Universe for this blessing.'
And then the thought "Oh yeah! I had better take a photo for Abby and the girls to share on Instagram'.
I got up and walked over to my bag, grabbed my phone and took a few photos, put my phone away, and went back to reading.
Except I couldn't continue reading.
I was distracted at the stupidity of having just taken a photo to share with random strangers just so they could get a glimpse of my life, my private life.
I battled with myself for days.
I write books about events in my life, and the lives of others to inspire hope, courage and confidence.
Books I publish cover stories of how to heal and overcome tragedy and trauma, police and government corruption, books which change the negative global narratives, so why on earth would taking a photo of my life bother me so much?
Because I want to just get on with my life.
Because I want to live my life privately, being in the moment…
And being away from my phone or computer.
I write books and articles all day.
I write courses for others so I can share my expertise, helping my learners avoid the costly mistakes I've made,
And help them crystalise their vision of success and legacy, and the impact they wish to have as an author.
I don't want to be recording my life, remembering to film, take photos and document my life with photos and videos all day every day.
Why do I share all this with you today?
Because yet again during a business webinar, I was reminded again of how the narrative that currently exists in business is one of 'film and document everything you do'
Don't write, film.
Don't write, take photos.
If you do write, give value
Don't inspire too much.
Don't make it too personal.
Make every thing you write inspirational,
But not too much.
Don't sell too much, but remember to share offers and what you do so people will recognise you as the person who can provide the solution.
And here's the thing…
I don't want to film every thing I do.
I am choosing to enjoy my life privately, and being in the moment.
I don't want to take photos of my life, documenting everything I do in every given moment,
Because I am focused on writing books, articles and courses to transform lives.
I don't want to have to choose hotels and locations, staying in one place just to make sure I have strong Internet connections so I can 'go live'.
Because I am choosing my way of doing business,
My way of living life,
And I am choosing the beautiful, unspoilt areas of this world to explore which need boats to get to them, far away from cities and tourists.
I am choosing to connect with locals, learning thier languages and dialects, learning local cultures, eating local foods, and enjoying rising with the sun and sleeping as the moon has risen in the night sky.
I am choosing to do business my way, through my articles, through my books, speaking engagements, through emails and building relationships away from the eyes of the world.
And I trust my actions and the Universe will provide for me.
I trust my intention to create a positive and powerful impact on humanity will succeed with everything I do, and who I BE.
And as my mum knows, when someone tells me "unless you do xyz you won't succeed" I will use it to fuel my relentlessness and my powerful fire to succeed my way, on my own terms.
I know my goals.
I know where my skills lie.
And I know what's best for me.
And so do you.
Trust yourself.
Trust your instincts,
And live life on your own terms.
Make your own rules,
And just know that if you truly want something,
Nothing and NO ONE will stop you!
With love,
As always,
Dawn xx
And if you want to get your book written, a biographer, or someone to support you on your journey to write a game changing book, then click here