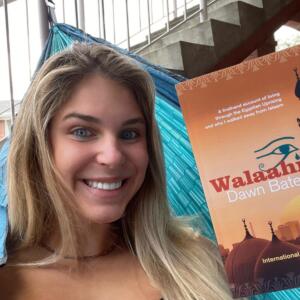 When discussing the realistic number of books an author will sell, I always tell them "It depends on how much you want success, how much you show up for yourself and your book, and how well you implement the strategies we create together".
According to figures published by Publisher's Weekly back in 2006 – the latest figures available – an average indie-author book will only sell around 500 copies in it's lifetime, with a traditionally published book selling 3000 copies.
250-300 of those sales will happen in the first year for both indie-authors and traditional publishers, so it is absolutely esssential that authors look at how they are selling, what additional mechandise they offer and what their vision for the future is.
So many 'want to be big time authors' will send out mansucripts to the traditional publishers in the hope they will get snapped up and given the kind of contract J K Rowling got, only to discover that the royalty payments are in the region of $5000 – $10,000 USD depending on current trends, and how much merchandise is possible.
When we look at J K Rowling's success story, the appeal there was that the magic story was set in a school, and was riding the wave of the world being open to discussing witches and magic more openly.
Add into the cauldron the merchandising of school stationery, halloween costumes, movie deals and you have a recipe for millions of sales the world over – especially when you consider translation opportunities.
The books have gone on to be translated into 73 languages around the world and sponsorship deals have come in thick and fast to the tune of more than $20 billion USD.
Rowling has had to work hard for it all though, choosing to spend time focused on her success rather than time scrolling social media and 'down the pub with her mates'.
Books tours around schools, libraries, bookstores, business events, universities, with meeting after meeting to make sure she understood the world of business.
Not an easy task as she navigated the death of her mother, being a single mother after her divorce and living a life of relative poverty.
What many don't realise is, Bloomsbury press told her to add a second initial to the J because apparently "young boys won't read a book written by a woman" – and this is in 1997, not the days of 1859 when George Eliot – formerly known as Mary Ann Evans – published Adam Bede.
Sadly, female authors still have a tough time in the publishing world, although 63% of writers are women and women are 4 times more likely to read a book than men.
Female writers get paid less by the traditional publishers and if you check out the top authors in almost all genres, you will discover those at the top of the list are men.
When it comes to reviews, only 1% of readers will leave a review not realising just how important it is for an author's career.
Even though we as authors ask for reviews, which help us sell more books, most readers still do not understand that by leaving a 4 or 5 star review they are helping the publishing platforms algorithms choose which books to promote.
Putting all these figures together you can probably see why it is an absolute necessity to make sure you have a strong business model and strategy surrounding your book, and why you have to invest in yourself and your author business.
If you wish to be a successful author, one who lives off their royalties alone, you have to do away with being average and having an employee mindset, choosing instead to step up and become a savvy business owner.
Being an author can be profitable, but to be profitable you have to be proactive, and passionate about your creation, because if you do not invest in yourself, why should anyone else?
If you are interested in creating magic, impacting the world and developing a successful author business, then make sure you book a call with me to see how I can support you on your journey.
In the meantime, support the millions of authors out there who gift you their knowledge or hours of escapism by writing them a review… starting with my books! (If you please!)