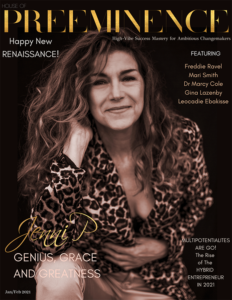 Hailed as the new 'O' magazine and the 'Vogue of feminine high performance' by some of the world most successful leaders and industry experts, the PreEminence is every successful visionary female titan's go to magazine! It is a stunning piece of art, with words of wisdom, insights and ideas on how to live your most pre-eminent life.
As an Executive Contributor and Editor, Dawn and the PreEminent Posse will be bringing you amazing content each and every month. Each issue gives you something to think about, actions to implement, the most gorgeous monthly planner whilst always inviting you to new realms of possibility.
If you have not yet subscribed, then what on earth are you waiting for? Permission?
Preeminence doesn't need permission, because preeminence is as preeminence does.
You can subscribe here to make sure you never miss an issue!
Come joing the PreEminence community over in our Facebook Group – we are looking forward to welcoming you!
A different world view is always helpful, so get ready to enjoy the commentary, opinions, and personal views with Dawn over on what is fast becoming the number one choice for leading business experts the world over.
Be warned though, these are not your normal articles and this is Dawn freestyling in her own special molecule shaking way!
Read her articles for MSP News Global here.