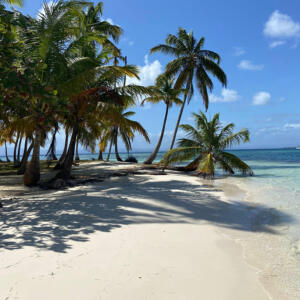 Sitting on the starboard side of the yacht, watching as we passed over my beloved ocean, I felt immense gratitude.
Gratitude for being alive. Gratitude for the planet we live on. Gratitude for the ability to be able to be grateful for all I do and do not have in my life. Gratitude to be the kind of woman – and mother – which my higher purpose has called me forward to be.
I don't understand why I am called forward in such a way, I don't understand why I have to live this kind of life, away from everyone I love so dearly. I may never understand it, but I do know I still pinch myself at the wonder of the world and the beautiful places and people I get to experience.
Leaving Colombia wasn't especially easy for me, even though I had been preparing to leave for a couple of months. Not because I wanted to, but because it was time. It was time for the next leg of this global circumnavigation, and time for a different kind of energy.
That deep soul calling was getting louder and louder, and I have learnt over the years not to ignore it; especially over the last decade with all I've been through.
Colombia has a very powerful energy to it, if you are willing (and able) to tap into it, and tap into it I did.
The magic of the Andes Mountain range, the lakes and rivers, the palpable and heady atmosphere of community, of family and of loyalty was something that even those who numb their daily lives with alcohol and drugs, processed food and toxic tv would be able to pick up on. 
An incredible country, and with each region so vastly different to the next, I left with a overflowing sense of love for the country, and yet heavy heart. I made some very dear friends in Colombia, friends I know I will never see again; but such is the life of a nomad.
So why did it impact me so much?
Because I knew I wasn't just saying goodbye to Colombia, I was saying goodbye to South America, getting present to all I have achieved during my time there; a place I have called home for the last 2.5 years after my 3 month Atlantic Ocean Crossing to this side of the world. Five countries (incuding Patagonia) all very different, and all now part of me.
Learning new Spanish dialects as well as learning Portuguese, all whilst getting confused all the time at which language I should be speaking, then ending up speaking them all in the same sentence, provided plenty of giggles, and of course frustrations and misunderstandings along the way.
The people of South America vary so much, as does the Spanish, the landsccapes and climates, all of which have enriched my understanding of the world – as well as the distrorted history taught in European countries.
Arriving in Panama, I felt myself recalibrate to the energetic signature of the jungle and then the intense city energy which left me feeling incredibly drained. After just a few hours here speaking with the locals and reading the signage, I could feel myself tuning into the new dialect of Spanish. The confusion of familiarity and newness took over.
And in amongst all this confusion is the opportunity to grow even more, to learn to communicate with more than just words, laced with the opportunity to learn even more patience, and understand another level of education and the vast array of cultures Central America will offer to me.
Sailing with a wonderful group of people, all Europeans bar one, brought up many things for me. The familiarity of the German, Dutch, Swiss and French cultures and languages brought with them a sense of home, and yet a feeling of not being connected to that part of the world anymore.
Listening to the conversations of my fellow travellers on board the yacht I attempted to join in, but couldn't. The chasm between me and them was too large due to the extensive amount of time I have lived as a nomad.
Add into the mix my time in regions such as South America and the Arab world, not to mention the political and socio comprehension I have of first hand experiences in the many countries I have lived and worked in, with the copious amount of experience I have in cultural diversity, our views of the world differed too greatly for me to contribute.
Then there was the difference in age, me being the only parent, it would not have been fair to all of them for me to join in, especially given the trip was a holiday for all of them.
Bridging the gap between our worlds would have been too large a task for the five days we spent together, especially considering some of the business choices I am about to make and the launch of my new Author Academy I was processing.
I chose to keep myself to myself and focused on enjoying being on the ocean. The first couple of days I was in my element – 25 knots of wind behind us, with the current working in our favour, 4 metre waves and pushing 10 knots – I was loving it!
But I knew the boat was capable of more, knew we could have let out more sail cloth, trimming the mainsail just a fraction, but again my fellow passengers were not seasoned sailors and were suffering from sea sickness, so not a good combination.
Upon closer inspection of the boat over the five days on board, I began to see it would have been dangerous for us to go any faster.  The boat was not in great condition, and should not have been allowed to carry passengers – especially the number of passengers we had on board.
Keeping the mainsail at two thirds of its full capacity was a good call made by the captain, simply because it was in such bad condition, along with the sheets (ropes) being almost at breaking point, anymore sail cloth out and we would have lost it altogether.
With the guard wires being held together by duct tape and a prayer, broken pulleys, non water tight hatches in the (over crowded) cabins the boat owner showed little respect for the passengers, the captain, his boat and the sailing community as a whole.
The 'water toys' aka SUP board, kayak and fishing rods were nowhere to be seen and the owner made the excuse that the last lot of passengers broke them all. Looking at the snorkel gear it was obvious he was lying to cover his own arse because the gear was so old and mismatched, most of it wasn't useable.
On day four of the trip the motor on the dinghy finally gave up and we were left without access to the islands unless we snorkelled or anchored so closely to the island that we could reach it by rowing there and hauling our way back by rope.
All a great adventure for the holiday makers, but the exchange of looks between me, the captain and our fellow crew mate said more than any of the languages combined between us could ever have created.
Our fellow passengers deserved better, and it was obvious the captain wanted to deliver more for them, but not being in control of the purse strings, what could he do to improve the boat? Nothing is the answer.
He did however do his absolute best to create an unforgettable feast at mealtimes and share his unstoppable energy, enthusiasm and passion for the San Blas Islands, something he did with unrelenting pleasure – even for me as a vegan, gluten free, fellow sailor.
The South American chapter of my life may be over, and I may have had a lot to process these last few days, but I know I have learnt a lot about myself, the world we live in and I've had my life as an ocean nomad confirmed.
One of the key aspects for my vision of the future was strengthened due to the lack of respect the owner of this boat had for those who travel onboard, not to mention the MARPOL regulations, the sailing world and people who chose to honour their body with a plant based, clean eating philosophy, and for his disrepect, I am grateful.
Like I said at the beginning of this entry, I am grateful for all I do and do not have in my life. I may not have a home base, may not be with my children and my parents, may not have a life partner, but travelling the world, seeing tiny islands and meeting the inhabitants, exploring reefs and cultures is something this village girl is incredible grateful for.
So until the next time folks, enjoy each and every moment of life, feel the feels, go within and remember to live your life on your own terms whilst offering up gratitude to all those you meet and the experiences you are blessed with – even the experiences which may not appear as blessings in the beginning.
With love from Panama… for now ;) xx