The Relentless Rebel duology
By Dawn Bates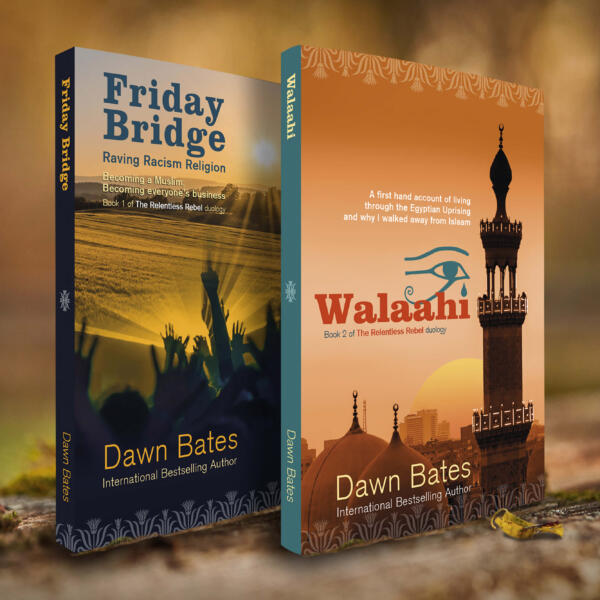 The British pride themselves on being tolerant, but often refuse to accept the rich cultural diversity within its green and pleasant lands.
Against a backdrop of racism and fear of outsiders, how does a 15-year-old girl from a small village in the heart of England know she wants to become a Muslim – and then convert (or revert, as it's known) to one of the most hated religions in the West?
What is it like to be pulled over by the police on a regular basis because they think your husband is your drug dealer or your pimp?
Just how deep does racial hatred and Islamophobia run within British society? Especially when events such as 9/11 and the 7/7 London bombings take place?
And what was it like living as a white, English Muslim who understands the religion of Islaam deeper than many of the Arabs she lives amongst in Egypt?
Is sailing along the Nile and visiting the pyramids on a weekly basis something from story books or a reality – even in the most turbulent of times?
Why did Dawn become known as 'the voice of the Egyptian people' when her second book, Walaahi, hit the shelves?
Is your life really under threat when you choose to walk away from Islaam, or is that just a story made up to keep Muslims living in fear – a way to keep non-Muslims comfortable with their Islamophobia?
Here in this compelling duology, Dawn Bates shares a unique insight into what it means to be a 'Posh Paki' and a 'traitor' to those who knew her, her ethnicity, nation and faith.
Friday Bridge
By Dawn Bates
Think you know someone? Then think again.
This book blows stereotypes out of the window and makes you stop and analyse what you think you know about the world we live in. Racism, raving and religion, entrepreneurship and exploration, leadership and being in the mainstream media, it's all in here.
A book about self-discovery, inner strength and never giving up.
As the world watched the events of the Egyptian Uprising unfold on their TV screens, Dawn and her family lived through it. This is her account of what it was like living and working in Egypt during this incredible historic moment. An honest and frank account about the hardships, the fear and the joys of living in Egypt during this turbulent time. Dawn talks with a refreshing and engaging voice as she describes the Egypt she's loved for 20 years and the pain of seeing Egypt and the people of Egypt destroyed before her very eyes.
For the first time in history the Egyptians rose up together to overthrow their President, Hosni Mubarak. The world watched as those living in Egypt experienced a complete communications black out, violent and bloody protests, police and army brutality, 7pm curfews, and the end of Mohammed Morsi's presidency by a blood thirsty military coup, giving way to the now President Abdel Fattah El-Sisi.