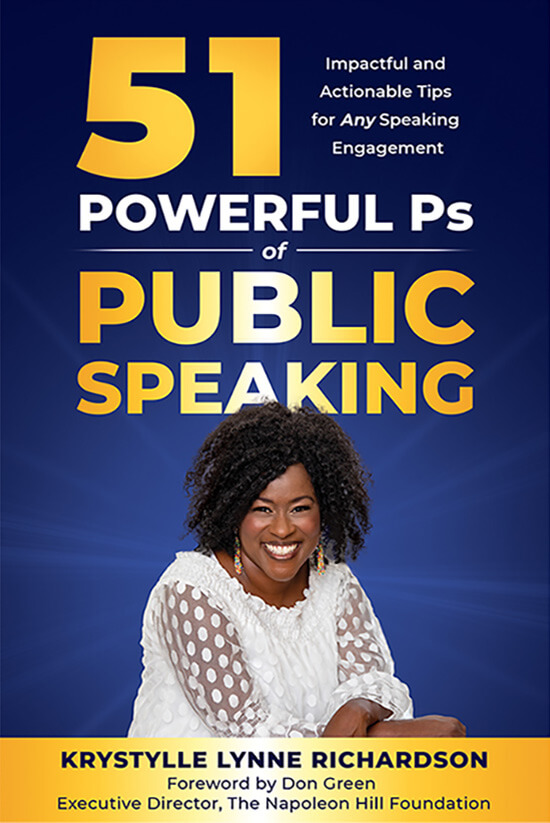 Discover the power of your voice with
51 Powerful Ps of Public Speaking
By Krystylle Richardson
Writer, Wealth and Innovation Coach Krystylle Richardson is the creator of The Woman Weekend-Preneur™ and is the ICN Global Ambassador of Innovation.
She believes that mastering public speaking can open doors for you the same as it has for her.
Krystylle has 35 years in international business and is known for her relentless tenacity to move individuals and corporate entities to sustainable profitability.
Her faith, ability to speak on various platforms and diverse settings in numerous countries have produced countless testimonials and her being called "The Untapped Income Coach".
By embracing her fears and short comings in public speaking she began to study the science behind it. She also jumped in with both feet years ago and started a radio show after having a conversation with a person who then became her first guest. That was none other than the found of Make-A-Wish Foundation and the inspiration behind the amazing movie WishMan, Frank Shankwitz. He praised her for her speaking and interviewing skills and even had her as a main red-carpet interview for his movie, attending the premiere in Hollywood and rocking the red-carpet in Arizona.
Now, she has spoken in over 30 countries and on almost every continent. Her talks, TV/radio shows, humanitarian efforts and award, best-selling books and online courses have landed her on NBC, CBS, USA Today to name a few.
Her wish is that every person who can speak, embraces their inner giant by using the techniques in this book. Then, break forth as the most POWERFUL public speaker on the planet impacting lives daily with their newly found and refined powers.
Find her at: KrystylleRichardson.com
FB: facebook.com/krystyllerichardson
IG: @iamkrystylle and @krystyllerichardsonofficial
LinkedIn: linkedin.com/in/krystyllerichardson

Krystylle came to me wanting guidance and support to get her spoken manuscript for 51 Powerful Ps of Public Speaking, ready for publication. She wanted the book to be a learning tool for her clients who take part in her Emerge Mastermind training weekends, as well as for those breaking into the arena of public speaking. The manuscript also acts as a reminder and an improvement tool for all seasoned speakers who wish to improve their abilities.

Co-authoring services to provide a deeper learning experience
Strategy Development for an increased global markets
Merchandising ideas generation and strategy generation
Cover Art Design from client supplied photography and preferred base colours
Publishing to over 150,000 publishing platforms
All legal and registration services arranged
PR: launch and first month of press releases
Sales: Client's own methodology
Copy Editing and Proofreading only
Distribution: Clients own channels